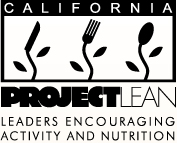 Communities Putting Prevention to Work
State Level
Los Angeles County
San Diego County
---
State Level Work
The California Department of Public Health (CDPH)'s Communities Putting Prevention to Work (CPPW) initiative addressed obesity prevention efforts, including reducing consumption of sugar-sweetened beverages (SSBs) and increasing access to joint use of school facilities.
California Project LEAN (CPL), as a project of the Public Health Institute, previously served as CDPH's lead on increasing access to healthy beverages and limiting access to SSBs through policy initiatives. CPL worked with local partners to enhance and expand the work of the Soda Free Summer campaign and move more Californians to "Rethink their Drinks." Click here to learn more about CPL's SSB work and resources.
CPL, in partnership with CDPH's Safe and Active Communities Branch, collaborated with state joint use leaders to develop tools and sample policies, and provide training and technical assistance that supported joint use policy. To help aid in the joint use effort, five $20,000 community grants were issued. The initiative helped lay the ground work to advance state and local policies that increased equitable access to safe and attractive school facilities outside of the school day for physical activity and recreation. Read our new Frequently Asked Quesions fact sheet for quick facts on joint use.
---

Los Angeles County
Los Angeles County (LAC) is the most populous local public health jurisdiction in the nation (10.4 million residents), spans more than 4,000 square miles, and includes 88 cities, a large unincorporated area, and 81 school districts. Obesity rates are rising in the county among adults (from 14.3% in 1997 to 22.2% in 2007), school-aged children (from 18.9% in 1999 to 23.1% in 2008 among 5th, 7th, and 9th grade public school students), and younger children (from 16.7% in 2003 to 21.8 in 2008 among children 3-4 years of age receiving WIC services). In addition, marked disparities in obesity rates are seen across the county. For example, the obesity rate among school-aged children in 2007 ranged from a low of 4% in the affluent City of Manhattan Beach to a high of 34% in the predominantly low-income City of Bell Gardens located less than 20 miles away.
LAC's Project RENEW (Renew Environments for Nutrition, Exercise and Wellness), CPPW initiative, seeks to implement policy, systems, and environmental changes to improve nutrition, increase physical activity, and reduce obesity, especially in disadvantaged communities.
"In order to have a measureable impact, we must expand our efforts beyond health education and medical services, as important as these are, to also include a focus on the environments in which people live and work," said Paul Simon, MD, MPH, Director of Public Health Chronic Disease and Injury Prevention. "Some of those changes will include working with school districts to expand physical education and improve school meals, cities and communities to increase access to healthy foods and public spaces for physical activity, and employers to establish policies and programs that promote physical activity and healthful eating. We want to build healthier lives, starting from the ground up."
The LA County Department of Public Health will work with a broad range of community, city, and school partners to implement a range of strategies over the course of the next two years. These strategies include:
Improving the nutritional content of school meals.
Implementing nutrition and physical activity standards among preschool providers.
Expanding physical education in schools and opportunities for physical activity in after school programs.
Creating more opportunities for walking and biking in communities by supporting the development of expanded bike networks and more pedestrian-friendly community design.
Establishing "joint use" agreements between schools and cities and communities to utilize school grounds and facilities for recreational programs during non-school hours, particularly in disadvantaged communities with few parks or other recreational venues.
Promoting healthy food and beverage policies in city and county programs serving youth and other vulnerable populations.
Establishing breastfeeding-friendly policies in birthing hospitals and workplaces.
Implementing a social marketing and public education campaign to promote healthy eating and discourage consumption of sugar-sweetened beverages, a major contributor to the obesity epidemic.
LA County Department of Public Health, as the lead agency in Project RENEW, will draw on a broad base of partners to accomplish its goals, including the City of Los Angeles; school districts, including the Los Angeles Unified School District with 700,000 students; the County Office of Education; two city health departments (Long Beach and Pasadena); County Departments of Regional Planning and Public Works; a rich array of community organizations, coalitions, task forces, foundations, and voluntary organizations; the health care and business communities; and a strong team of technical consultants.
Four cities in Los Angeles have passed City-level nutrition policies.
El Monte
South El Monte
La Puente
Huntington Park
Bell Gardens
---

San Diego County
San Diego County is the third most populous county in the state (behind Los Angeles and Orange Counties), with three million residents living in an area of more than 4,500 square miles. In addition, San Diego County is part of the San Diego-Tijuana metropolitan area, the largest bi-national metropolitan area shared between the U.S. and Mexico, with more than five million people. The county encompasses 18 cities and a large unincorporated area, 42 school districts, 747 schools, and 497,000 students in grades K-12.
The 2009 San Diego Report Card on Children and Families revealed that nearly 30% of children in the 5th, 7th, and 9th grades are overweight or obese. This is troubling because research has shown that obese children have a higher risk of becoming overweight or obese adults. In San Diego County, approximately 55% of adults (1.2 million people) are overweight or obese.
"It's important to remember that a poor diet, lack of physical activity, and smoking are three behaviors which contribute to the four major chronic diseases that are responsible for more than 50 percent of deaths right here in our community," said Wilma Wooten, MD, MPH, San Diego County Public Health Officer. "Preventing disease is possible."
CPPW will implement evidence-based initiatives that impact system, policy, and environmental changes to prevent obesity and minimize the burden of chronic disease in San Diego County. These initiatives include:
Physical Activity

Provide policy direction that supports co-benefits between public health, climate change, land use, and transportation development.
Promote healthy transportation, including walking and biking, backed up by accessible and safe public transit.
Integrate public health considerations into land use and transportation planning documents and modeling tools.
Promote accessible and safe places for physical activity.
Increase opportunities for physical activity in before/after school programs.
Nutrition
Increase access to healthy and locally grown food in schools, foster group homes, senior meal site, and other locations.
Develop a regional food systems policy and support other food systems strategies that benefit our local agriculture systems and the health of our community.
Increase the number of farmers' markets that are participating with nutrition assistance programs.
Develop and expand community and school gardens through easier permitting processes and encouraging joint use agreements.
Support expansion of lactation policies at worksites.
Expand participation in school and summer feeding programs for kids.
"This grant represents a unique opportunity for us to work on projects that support the County's ten-year health strategy agenda," said Health and Human Services Agency Director Nick Macchione. "The overall return on investment is improved quality of life. Better health and less chronic diseases at the individual level leads to lower health care costs for the community as a whole."
The goals of the CPPW grant are achieved through partnerships between San Diego County's Health and Human Services Agency, community partners, and contracted agencies, including University of San Diego's Division of Child Development and Community Health, San Diego County Office of Education, San Diego Association of Governments, San Diego State University's Graduate School of Public Health, Community Health Improvement Partners and the San Diego County Childhood Obesity Initiative.