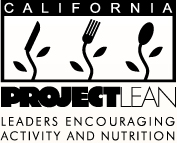 Marketing in Schools
California Project LEAN believes that schools should serve as a safe haven from unhealthy food and beverage messages. Food and beverage marketing influences the diets and health prospects of children and youth and numerous national and international organizations have called for changes to the way the food industry markets its products to kids. California Project LEAN works with school districts and school stakeholders to address and limit the marketing of unhealthy foods and beverages on school campuses.
---
Marketing In School Toolkit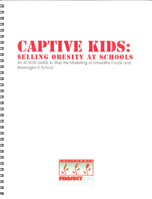 Captive Kids: Selling Obesity at Schools. An Action Guide to Stop the Marketing of Unhealthy Foods and Beverages in School
The Captive Kids: Selling Obesity at Schools tool kit addresses the issue of marketing unhealthy foods and beverages on California school campuses. While geared toward California health advocates, this toolkit may also be useful to health advocates outside of California. Captive Kids includes information on:
marketing to children and youth through schools;
key steps to develop policy that addresses marketing at schools;
answers to legal questions; and
talking points, case studies, fact sheets, additional resources and more.
This tool kit was produced as a result of the growing public concern over the obesity epidemic and the role that marketing plays in establishing eating patterns.
California youth, like their peers across the country, continue to face a serious nutrition and physical activity crisis. This is why California Project LEAN along with other health advocates believe that schools should serve as a safe haven from unhealthy food messages and are calling for restrictions on advertising of unhealthy foods and beverages to children and youth.
California Project LEAN identified and quantified the types of marketing and advertising on selected California school district campuses.
---
SCHOOL MARKETING ASSESSMENT TOOL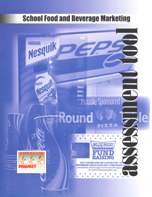 School Food and Beverage Marketing Beverage Marketing Assessment Tool
This tool assesses food and beverage advertising in schools. The results of this assessment will be useful to health professionals and educators who are concerned about children's health and the types of food messages they are exposed to in schools.
---
Food and Beverage Marketing on High School Campuses Survey
These resources provide brief details about the challenges and opportunities around marketing on school campuses.
Fact Sheet (English/Spanish)
Frequently Asked Questions (English/Spanish)
---
FOOD AND BEVERAGE RESEARCH REPORT
This report provides the research and background that supported the development of our marketing in schools campaign.
Food and Beverage Marketing on California High School Campuses (2006)
---