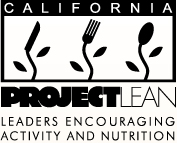 Local School Wellness Policy
In 2006, schools across the country were required to develop Local School Wellness Policies (LSWP) that set standards for nutrition education, physical activity, foods served and sold, and other activities that support student wellness.
California Project LEAN has expertise on LSWP and has developed nationally recognized resources and provided trainings and technical assistance to schools/districts, school board members, parents, youth, and other stakeholders who assist in the development, implementation, monitoring, and evaluation of LSWPs.

For more information contact Deirdre Kleske by writing to [email protected] or calling 619.721.9332.
---
SCHOOL WELLNESS TOOLS AND RESOURCES
Video Workshops
Advocacy Guides
Fact Sheets
California School Food and Beverage Standards
Research and Policy Briefs
Case Studies
California's Blueprint for Coordinated School Health