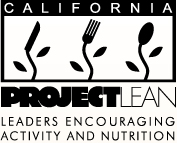 Materials
California Project LEAN recognizes the need for communities and organizations to have tools, resources, and guides that facilitate the planning, implementation, and evaluation of nutrition and physical activity policy and environmental changes.
California Project LEAN develops research-based, user-friendly tools and resources that educate audiences on nutrition and physical activity issues and help groups to take action to implement strategies that will improve nutrition and physical activity environments.
California Project LEAN develops toolkits, lesson plans, fact sheets, policy briefs, reports, fact sheets, and brochures on topics such as school wellness, stakeholder (e.g., parent/promotora/youth) engagement, physical activity/physical education, safe routes to school, school food and beverage standards, bone health, and marketing in schools, to name a few.
Organizations can contract with California Project LEAN to develop nutrition and physical activity tools and resources. For more information contact Katherine Hawksworth by writing to [email protected] or calling (925) 708-7027.