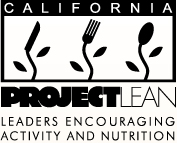 Parent/Promotora Engagement
Parent Engagement Advocacy Toolkit
Fact Sheets
Parent/Promotora School Wellness Policy Lesson Plans
Brochures
Order Materials Now
---
PARENT ENGAGEMENT IN SCHOOL WELLNESS POLICY TOOLKIT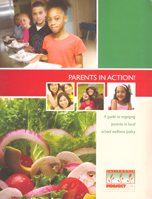 Parents in Action: A Guide to Engaging Parents in Local School Wellness Policy (English/Spanish)
This toolkit provides resources and tools that will help school stakeholders engage parents in Local School Wellness Policy (LSWP) implementation, monitoring, and evaluation. Parents in Action! provides stakeholders with a process for engaging parents in advocating for the improvement of the school environment and increased healthy food and physical activity opportunities through the LSWP. The toolkit provides strategies for reaching parents, resources for assessing the school environment, fact sheets on relevant school nutrition and physical activity topics, parent education resources, and resources that will assist with the advocacy process.
---
The school food and physical activity environment plays a large role in the foods students eat and the amount of physical activity they engage in. An important step to help youth eat better and increase their physical activity is to improve the food and physical activity environment in their schools. These fact sheets will provide you with and overview of school food and physical activity policy challenges and opportunities.
---
PARENT/PROMOTORA SCHOOL WELLNESS POLICY LESSON PLANS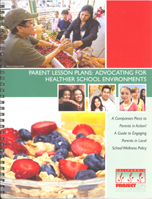 Parent Lesson Plans: Advocating for Healthier School Environments (English/Spanish)
The Parent Lesson Plans are a companion piece to Parents in Action!: A Guide to Engaging Parents in Local School Wellness Policy. These lesson plans are for use by stakeholders working with parents and should be used in coordination with Parents in Action! These lesson plans will assist stakeholders to educate parents about local school wellness policy and empower them to become advocates for improved nutrition and physical activity environments in their child's school.
Huesos Fuertes, Familia Saludable (Strong Bones, Healthy Family Promotora Curriculum)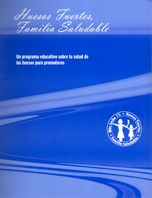 (Spanish only)
This Spanish-language curriculum for community health workers includes four educational sessions and corresponding handouts on osteoporosis risk factors and prevention, the importance of calcium rich foods, the importance of physical activity for bone health, and tips for overcoming barriers to improving bone health. The curriculum includes a CD-ROM with English translation of lessons and handouts.
---
Celebrate Health with a Lowfat Fiesta
Eat Lean Mexican Cuisine
Food on the Run: Healthy Eating and Physical Activity for your Teenager
Shop, Cook, and Dine Lean
Shop, Cook, and Eat Lean
---