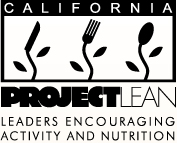 Vision, Mission, Goals, and Values
Vision
All Californians have equitable access to healthy foods and safe, attractive places to be physically active.
Mission
To increase opportunities for healthy eating and physical activity in communities across California to reduce the prevalence of obesity and chronic diseases such as heart disease, cancer, stroke, and diabetes.
Program Goals
To serve as leaders coordinating state and local efforts promoting healthy eating and physical activity.
To create healthier communities through policy and environmental changes that support healthful eating and physical activity.
To provide technical assistance, tools, and resources on community-based strategies for improving nutrition and physical activity environments.
To prioritize nutrition and physical activity efforts in communities with the greatest health disparities.
To collaborate with local leaders such as youth, parents, policy-makers, and promotoras, to build local capacity to change communities.
To conduct research-based, consumer-driven nutrition and physical activity campaigns.
To educate Californians to choose healthier foods and be more physically active.
Core Values
We believe that:
With knowledge, skills and a supportive environment, people can improve their health.
Policies and practices which make healthful eating and being physically active the easy choice will be most effective in changing population health.
Healthy eating and physical activity increase quality of life.
Communities can enact changes that support healthy eating and physical activity.
Science-based research and evaluation strengthens our interventions.
Prevention is a cost-effective approach to reducing chronic disease.
At-risk populations receive greatest priority in our decision making.
Collaboration with a diverse range of partners is essential to success.
Programs, services and products must be community driven.