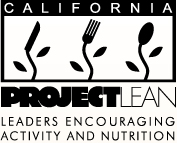 California School Food and Beverage Standards
In 2005, California passed legislation (Senate Bills 12 and 965) that set standards for foods and beverages sold in California public schools outside of the federal meal program (competitive foods). This legislation set limits on the amount of fat, saturated fat, sugar, and calories competitive foods (snacks, beverages, and entre items) can have and applies to foods sold in grades K-12. The legislation eliminated the sale of sodas and set sugar content limits for other sugar sweetened beverages. Recently, legislation was passed that limits the amount of trans fat competitive foods can have.
In elementary schools, these food standards apply at all times and the beverages standards apply before school and up to ½ hour after school. In middle and high school, the food and beverage standards apply ½ hour before school until ½ hour after school.
California Project LEAN is committed to working with schools to improve the quality of their school meal programs and drastically reduce or eliminate competitive food/beveage offerings.
Read about California Schools Going Above and Beyond the Standards
---
CALIFORNIA SCHOOL FOOD AND BEVERAGE STANDARDS RESOURCES
Food Standards Snack Calculator
July 2014: Temporarily inactive for updating.

The Food Standards Calculator will help you determine if an individual food item would meet the food standards for calories, fat, saturated fat, trans fat, and sugar established in 2007 by California's legislation (SB 12 and 965). Link to our calculator.

California School Food/Beverage Standards Fact Sheets:
The California Department of Education, Nutrition Services Division also has information, tools, and resources on Competitive Foods and Beverages.