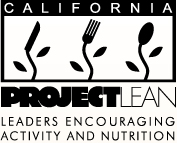 Coordinated School Health
California Project LEAN works in close partnership with the School Health Connections (SHC) program, which is a joint program between the California Department of Public Health and the California Department of Education. SHC actively supports a coordinated school health system, which consists of the eight components listed below. SHC's goal is to ensure that children are healthy and ready to learn and many of SHC's efforts intersect with California Project LEAN's initiatives.
Health education.
Health services.
Physical education.
Healthful school environment.
Counseling, psychological, and social services.
Nutrition services.
Parent and community involvement.
Health promotion for staff.