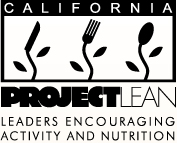 Spanish Materials
Lesson Plans
Brochures
Advocacy Guides
Order Materials Now
---
Lecciones para ¡Padres en Acción!: Abogando por Ambientes Escolares Saludables (Parent Lesson Plans: Advocating for Healthier School Environments: A Companion Piece to Parents in Action!)
The Parent Lesson Plans are a companion piece to Parents in Action! A Guide to Engaging Parents in Local School Wellness Policy. These lesson plans are for use by stakeholder's working with parents and should be used in coordination with Parents in Action! These lesson plans will assist stakeholders to educate parents about local school wellness policy and empower them to become advocates for improved nutrition and physical activity environments in their child's school.
Huesos Fuertes, Familia Saludable (Strong Bones, Healthy Family)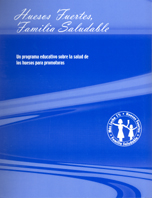 This Spanish-language curriculum for community health workers/promotoras includes four educational sessions and corresponding handouts on osteoporosis risk factors and prevention, the importance of calcium rich foods, the importance of physical activity for bone health, and tips for overcoming barriers to improving bone health. The curriculum includes a CD-ROM with English translation of lessons and handouts.
Muevete Mas, No te Quedes Sentado (Move More, Watch Less)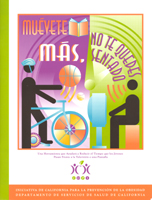 Do More-Watch Less! is a toolkit for afterschool programs and youth serving organizations to encourage tweens (ages 10-14) to incorporate more screen-free activities into their lives while reducing the time they spend watching TV, surfing the internet, and playing video games. The toolkit includes step-by-step instructions and handouts that guide tweens through hands-on activities to help reduce their screen-time.
---
---
Adolescentes en Acción (Playing the Policy Game)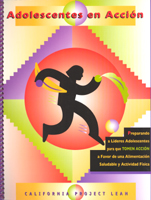 This toolkit highlights nutrition and physical activity policies in the school and community that teens can pursue with adult guidance. The booklet includes a collection of activities and success stories of California teens making nutrition and physical activity policy changes in their communities. Playing the Policy Game outlines activities which drive the policy change process. Each step of the process is described in detail.
Padres en Acción! Guía para Involucrar a los Padres de Familia en las Políticas de Bienestar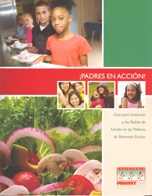 Escolar (Parents in Action: A Guide to Engaging Parents in Local School Wellness Policy)
This toolkit provides resources and tools that will help school stakeholders engage parents in Local School Wellness Policy (LSWP) implementation, monitoring, and evaluation. Parents in Action! provides stakeholders with a process for engaging parents in advocating for the improvement of the school environment and increased healthy food and physical activity opportunities through the LSWP. The toolkit provides strategies for reaching parents, resources for assessing the school environment, fact sheets on relevant school nutrition and physical activity topics, parent education resources, and resources that will assist with the advocacy process.
Bienestar Escolar Como Aproximarse a los Miembros de una Mesa Directiva Escolar (Reaching School Board Members Guide)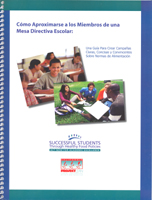 This Guide utilizes multiple hours of feedback and discussion with California school board members, superintendents, school principals, and parents to help community groups create "win-win" situations when working on school district nutrition and physical activity issues.
---