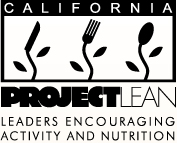 What We Do
California Project LEAN (Leaders Encouraging Activity and Nutrition) is a program of the Public Health Institute. California Project LEAN works to advance nutrition and physical activity policy in schools, early childcare and other community settings in order to prevent obesity and its associated chronic diseases. Our efforts are centered around youth and parent empowerment approaches, policy and environmental change strategies, and community-based solutions that improve nutrition and physical activity environments.
California Project LEAN recognizes that health inequities exist in communities and that specific low income residents and members of racial and ethnic minorities experience higher rates of overweight and obesity because of social conditions. With this in mind, we focus much of our efforts in low resource, high need communities whose members are adversely impacted by such social conditions.
California Project LEAN provides input on the development of national, state, and local policies and works with communities and schools to implement policies that will improve access to healthy foods and physical activity opportunities.
California Project LEAN works with state and local physical activity and nutrition leaders, key school and community organizations, school board members, youth, parents, and promotoras as stakeholder engagement is an essential component of obesity prevention and health promotion.