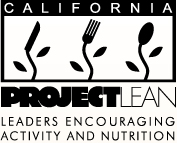 Training and Technical Assistance
Upcoming Events
Recent Presentations
Past Presentations
California Project LEAN offers training, technical assistance, and expert consultation in both Spanish and English on policy and environmental change strategies and community-based solutions that will improve opportunities for healthful eating and physical activity. Download our 2017 Training and Technical Assistance Catalog for more information or contact Katherine Hawksworth by writing to [email protected] or calling 925.708.7027
California Project LEAN has worked with a variety of organizations and can provide one-time only assistance or on-going assistance for longer projects. We can provide training, technical assistance, local or state-wide project management, resource development, and assistance with research, data collection, and project evaluation.
California Project LEAN can assist organizations, schools, and communities to identify their strengths and weaknesses and build their capacity to improve the food and physical activity offerings in their surroundings.
Some of our areas of expertise include:
Community and school advocacy

Healthier environments in childcare settings

Nutrition, physical activity, and physical education policy

Local School Wellness Policy implementation and evaluation

Parent, youth, and promotora engagement

School food and beverage standards

School meals

Marketing in schools

Social marketing

Safe Routes to School
California Project LEAN has provided trainings to numerous organizations inside and outside of California. In California, this includes to school board members, policy-makers, teachers, school districts, county health departments, local obesity prevention coalitions, promotora groups, and grant-funded organizations from schools to community organizations. CPL has provided several out-of-state trainings to state health and education departments including South Dakota, Colorado, Florida, Maine, New Hampshire, Vermont, Utah, and North Carolina.
UPCOMING EVENTS
By invitation only, California Project LEAN is hosting its 4th dinner convening for school superintendents and school board members of the South Kern region on February 2, 2017.

Check your email this month for the next Enewsletter from California Project LEAN.
RECENT PRESENTATIONS
In May 2016, the Public Health Institute's California Project LEAN (CPL) and Center for Wellness and Nutrition (CWN) hosted Catalysts for Change: 3 Perspectives for Healthy Policy and Practice Change in the School Environment, a webinar highlighting three school stakeholders--an adult ally working with youth, a parent leader, and a district assistant superintendent--about their efforts to advance successful school wellness policy and practices in their district.
In case you missed it, here is the webinar link and below are the speakers' presentations:
PAST PRESENTATIONS
Southeast Learning Community Webinar: School and Childcare Wellness Policies and Practices
On December 1, 2015, PHI Center for Wellness and Nutrition hosted a webinar for the Southeast Learning Community that focused on school and childcare wellness policies and practices. CPL Program Manager, Katherine Hawksworth, was invited to provide an overview of local school wellness policies, engaging various stakeholders, as well as, expanding wellness into the childcare setting.
Southeast Learning Community: School and Childcare Wellness Policies and Practices.
School Wellness Summit 2015: The Value of Crafting an Individualized Local School Wellness Policy
On October 8, 2015, The Orfalea Foundation and local partners hosted their 2nd Annual School Wellness Summit in Solvang, California. CPL Program Manager, Katherine Hawksworth, was invited to provide the keynote address to the 175+ attendees. The presentation titled, The Value of Crafting an Individualized Local School Wellness Policy, addresses the importance for school districts to develop and implement their local school wellness policy based on district identified needs and priorities to support student health and academic success.
Shasta County Sodium Forum: Building Support for Sodium Reduction
California Project LEAN and Shasta County Public Health hosted a half day forum to build support for sodium reduction efforts throughout Shasta County. Speakers included Dr. Andrew Deckert, Health Officer, Shasta County Public Health; Dr. Tony Kuo, Director, Officer of Senior Health, Los Angeles County Public Health; Christine Lafontant, Recreation manager, San Diego Parks and Recreation and Dr. Robert Lewis, Director of Nutrition Services, El Monte City School District. The speakers highlighted local successes and lessons learned in advancing sodium reduction efforts. PowerPoints from the forum are available for download here:
Making New Places for Play: Joint Use Agreements Between Schools and Parks
With limited and sometimes diminishing resources, communities across the nation are challenged to provide children and adults with opportunities for physical activity. Joint-use agreements that allow the shared use of school and park facilities are enabling communities to meet this challenge both during and after school hours.
This webinar, hosted by the National Safe Routes to School Partnership and the National Recreation and Park Association, examines how joint-use agreements can be negotiated to allow the shared use of school recreational facilities, parks, and community recreation centers.
Speakers included Rich Dolesh, Chief of Public Policy, National Recreation and Park Association, Joanne Gooley, Physical Activity Specialist, California Project LEAN, California Department of Health, and Michael Shull, Superintendent of Planning and Construction, Department of Recreation and Parks, City of Los Angeles.
To watch the webinar.
Download the webinar.

Robert Wood Johnson Center Bonus Q&A Session
Did you join us for our February 25th webinar: "Seizing the Moment: Efforts Underway to Improve our Schools?" If so, listen to our post-webinar questions & answer session audio clip! In this 15 minute conversation, webinar panelists Jim Gerstein, founding partner of Gerstein|Agne; and Vicki Berends, marketing director at California Project LEAN, discuss additional questions that were not answered during the webinar. If you didn't have the opportunity to join us for the webinar on February 25th, watch the full presentation here for more background.